When you buy a car — used or new — there is always going to be a small question in the back of your head, wondering "what if something goes wrong?" We know that buying a car can be stressful, but the Driven Cars Canada team is here to back you up and make sure your investment is protected.
In today's blog, we'll take a look at some of the features of the Driven Cars Protection Plan. This extended warranty and protection offers you coverage on a wide range of failures and deficiencies. It even protects against corrosion! Discover some of how we help you stay safe and keep your car ready for anything here, and contact our team to learn more!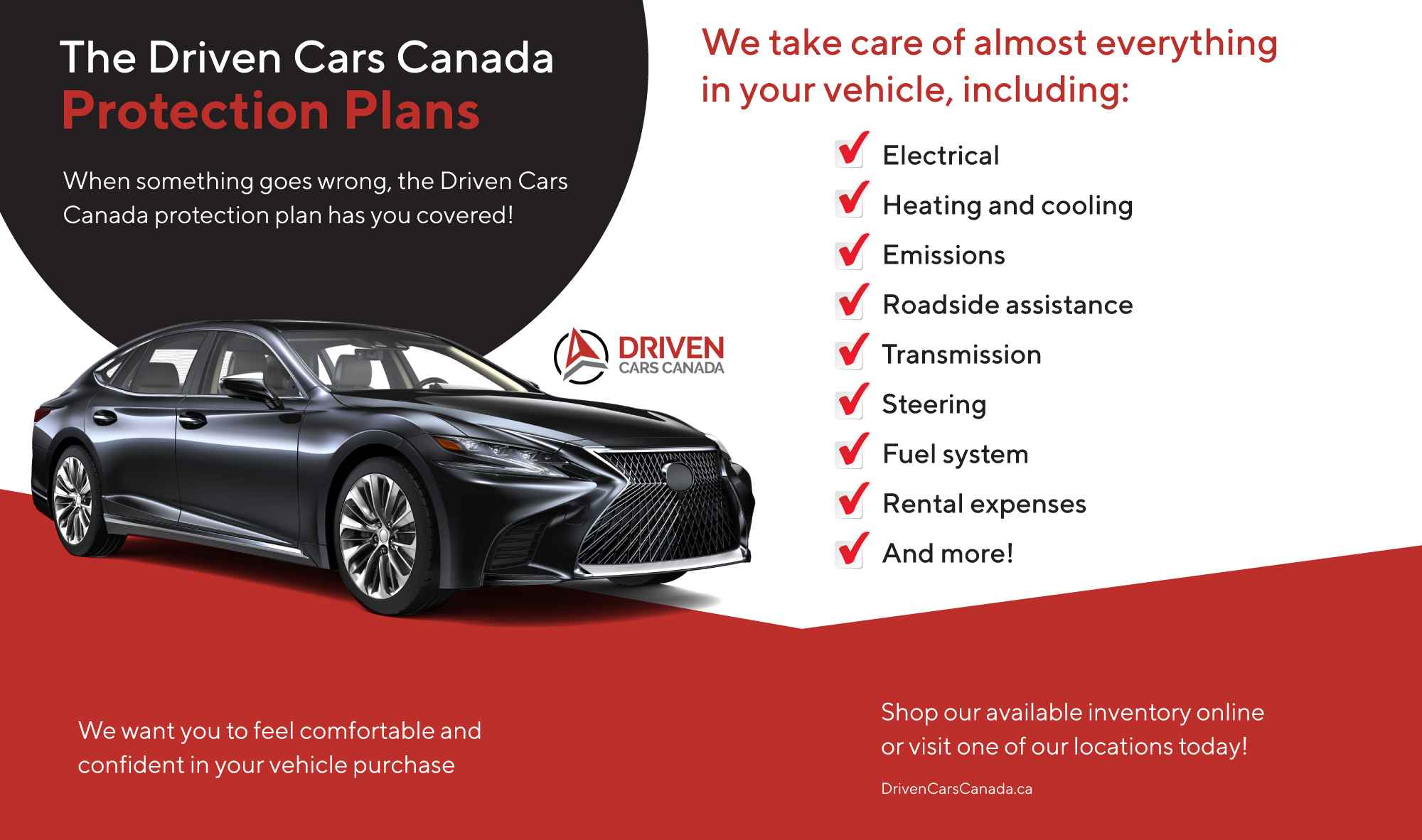 The Protection Plan
When you get a protection plan from Driven Cars Canada, it will cover almost everything in your vehicle, including:
Electrical

Heating and cooling

Emissions

Roadside assistance

Transmission

Steering

Fuel system

Rental expenses

And more!
Our high-quality protection program is offered through First Canadian Protection Products™, and it makes sure your car is always covered. You can repair your car, add roadside assistance, transfer your warranty to a new owner, and even get repairs covered in the USA! We always want to put our customers first, and this is one of our best ways that we can provide you with the absolute best services possible. Thanks to our partnership with First Canadian, we are able to give you peace of mind and cover just about everything on your vehicle!
GAP Insurance
If you have a vehicle write-off or your vehicle is stolen, it can be helpful to have GAP (guaranteed auto protection) insurance. This will cover the difference between the amount from your insurance company payout and the remaining amount that you owe on your vehicle loan. This also includes any deficit brought over from a previous loan. If you need to submit a GAP claim, you can always reach out to the team at Driven Cars Canada and we would be happy to assist you!
Undercoat Protection
With the Auto Saver System from Driven Cars Canada, your vehicle can be protected against corrosion damage that is not covered by the manufacturer's warranty. Most warranties only cover corrosion damage that happens due to manufacturing defects, which can leave you out of luck if there is any damage to the undercoating of your car. When you buy a preowned vehicle from us with the Auto Saver System, your vehicle will be covered for four years with a warranty for corrosion, exterior paint, interior upholstery, and more.
Find Your Next Car With Driven Cars Canada
Learn more about how Driven Cars Canada works to take care of you and your vehicle for years to come when you get in touch with our team. We are always available to help you, and we won't try to sell you any gimmicks or false promises. Feel free to email us, call us, or visit one of our locations today. We look forward to helping you find a new car that you can count on for many years to come!