If you've purchased a used car in your life, you probably remember going out to a dealership or visiting the owner, shaking hands, talking through the information of the car, and taking the vehicle out on the roads for a test drive. However, everything has changed since COVID-19 hit last year! At Driven Cars Canada, we still want to provide you with an amazing testing and purchasing experience from the comfort and safety of your own home. That is why we have built several virtual tools for purchasing, testing, and learning more about the vehicle that you are considering purchasing. Learn more about the online used car tools that we have today and schedule your own virtual test drive and tour with the Driven Cars Canada team!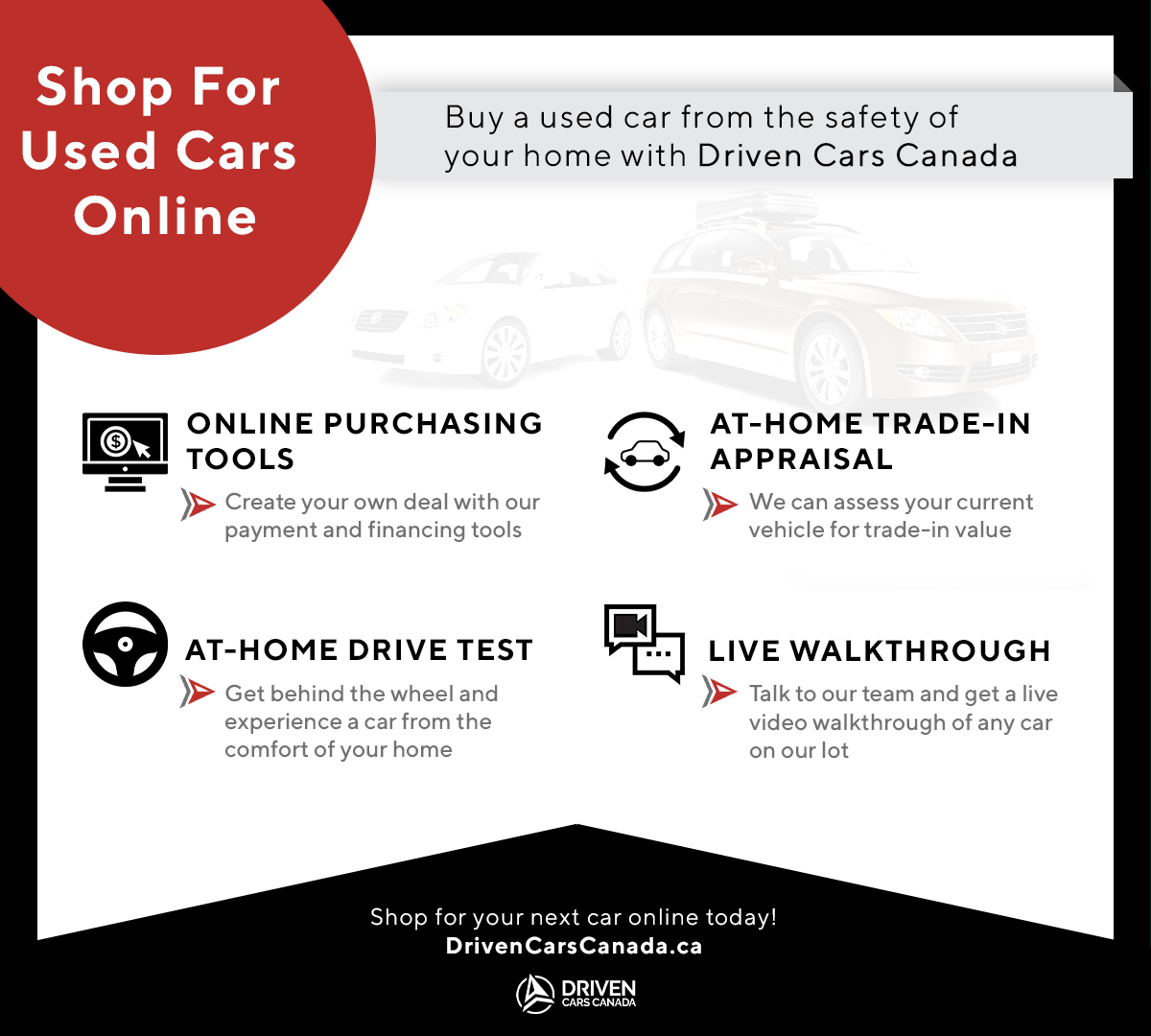 Online Purchasing Tools
You can buy just about anything you want online these days, so we decided to make it easy for you to purchase your next used car online too! We now offer a tool on every one of our online listings called "Create Your Deal" that will allow you to structure your payments easily. With this tool, you can find your credit rating, calculate trade-in value, and add any extra services that you would like. If you'd prefer to talk this through with somebody before your purchase, you are always welcome to call our dealership to discuss any financing and payment options!
At-Home Drive Test
While nothing can ever quite compare to getting into a car and seeing how it handles in-person, we've got the next best thing with the at-home drive test. This virtual test drive will allow you to see the car on the road and get the closest to real life experience possible. If you'd like to schedule a true in-person test after viewing your at-home drive test, we are still able to arrange this! Each in-person test will be safe, and the vehicle will be thoroughly cleaned before and after the test.
At-Home Trade-In Appraisal
If you have a car that you are going to be trading in as part of your payment, you can schedule a video meeting with one of our team members to go over the details and find out how much trade-in value we are able to give you. This call will allow us to see your vehicle and ask any questions about the condition of various parts.
Live Vehicle Video Walkthrough
Whenever you would like to see more details of a car you are interested in, you can schedule a live vehicle video walkthrough with a member of our team. During this video call, you can view as many details as you would like, and our representatives will gladly answer any and all questions you may have about the car, our Driven Certified program, trade-ins, or any other topics regarding your used car purchase.
Find Your Car Today
When you're ready to purchase your own used car in Canada, you can count on the team at Driven Cars Canada to have your back! Shop safely with our online tools, and buy with confidence thanks to our Driven Certified program. Learn more when you contact us online or by phone.