Buying a preowned vehicle can be challenging, and you can never truly know exactly what the car you're considering has been through. You want to have peace of mind knowing that you're buying a trustworthy investment that will be worth your time and money. That's why Driven Cars Canada includes a free Limited Lifetime Powertrain warranty on every Driven Certified vehicle that comes off our lot!
When you need a car that you can count on, you can trust in our Driven Certified vehicles. These must pass a 210-point inspection before they can be sold, and each Driven Certified vehicle will be equipped with new NAPA brakes, filters, and more. Learn more about our powertrain warranty here and get in touch with the Driven Cars Canada team if you have any further questions. We are always here to help you, and we won't try to sell you any gimmicks or low-quality vehicles. If you want to see some of our inventory, you can even shop for your next car online!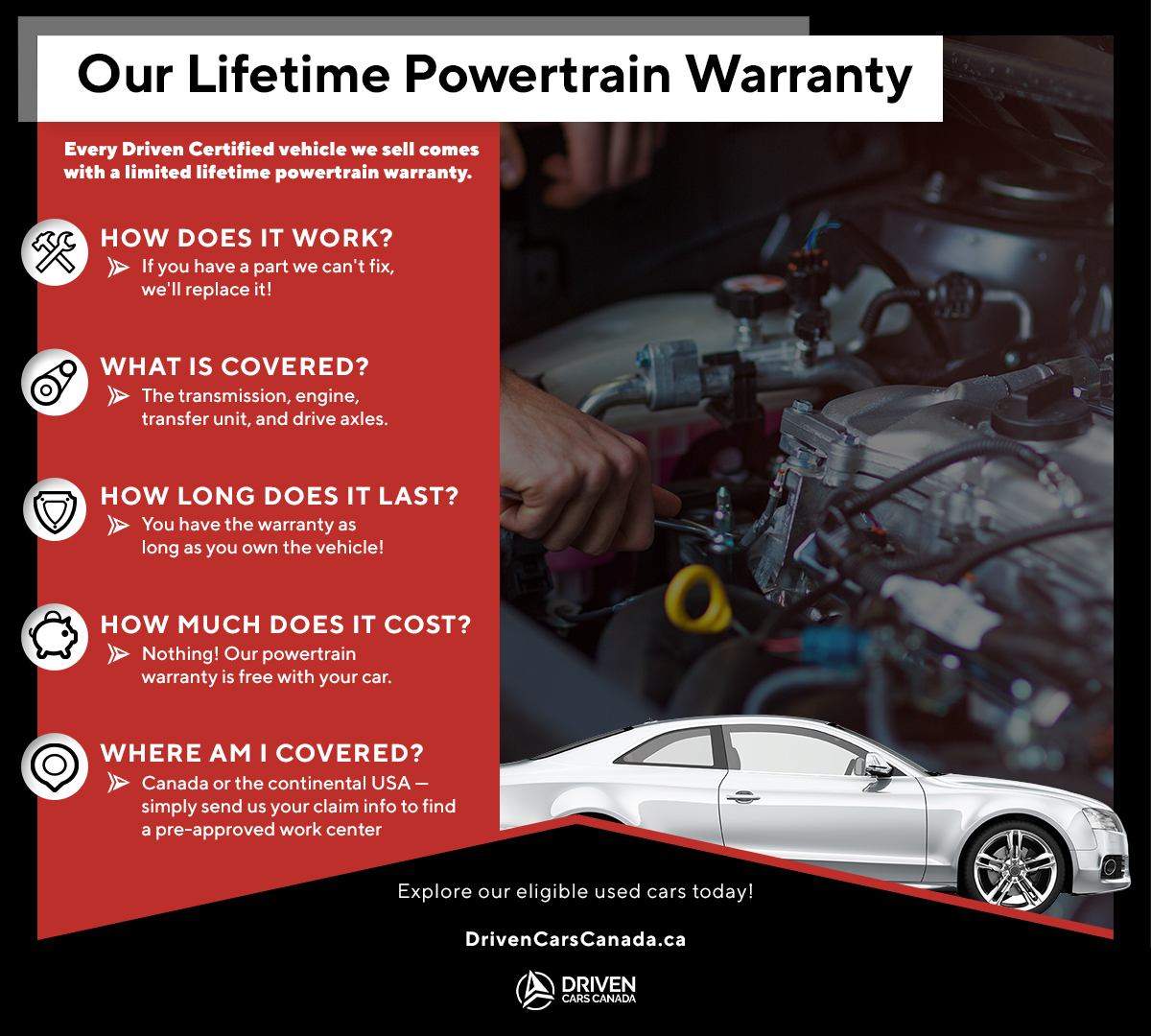 How Does It Work?
Our process is simple — if you have a problem with one of your covered parts and we cannot fix it, we will replace it! We want you to be confident that your car isn't going to fail and that you have a team standing behind you ready to help. While this warranty doesn't cover the cost of repairs, you are also able to purchase affordable protection plans that will cover all of your needs.
What Is Covered?
This free powertrain warranty will cover:
Transmission

Engine

Transfer unit

Drive axles
For all of these parts, if they cannot be repaired, we will find equivalent parts that are equal to or close to the mileage, or with another rebuilt part. If repairs are possible, you may be required to pay for them, depending on your other coverage packages. These parts are the main drivers for your vehicle, and we know that when they fail they can be expensive or difficult to replace. That's why we want you to have peace of mind knowing that no matter what, Driven Cars Canada has your back.
What Else Should I Know?
Let's answer some of the commonly asked questions about this warranty!
How long does it last? — As long as you own the vehicle!

How much does it cost? — Nothing! It's completely free.

Where am I covered? — You are covered anywhere in Canada or the continental USA.

Where is the work done? — Claims and work are sent to the Driven Cars Canada service center, and work can be done at other pre approved centers.
Still have more questions? Don't worry, you can always reach out to the team at Driven Cars Canada to get the answers that you need.
Explore Our Vehicles Today
When you're ready to start looking for a vehicle you can trust, you can count on our team to provide you with high-quality Driven Certified vehicles. You can shop online today or visit one of our locations near you to find your next car, and enjoy a free powertrain warranty!